Welcome to Gasmet GHG booth
Here you can find all the information you crave about our solutions for greenhouse gas measurements. We have videos, webinars, and a variety of downloadable materials, such as brochures and product datasheets. You can also meet our experts in the videos or contact them further on the page.
Reliable GHG measurements with Gasmet
We manufacture solutions that can help protect the environment. As a high tech company, we know the power of technology and believe that our solutions can help change the direction of global warming. To support climate change research and help mitigate threats for the environment, we manufacture portable gas analyzers for measuring and monitoring greenhouse gases.
You can find our analyzers everywhere in the world, all the way from the Arctic and to the Amazon. Researchers all around the globe understand the benefit of using our solutions to help their work. Every unit sold contributes to an enhanced understanding of global GHG balance and can support achieving lower emissions in the future.
GT5000 Terra is the world's smallest, portable and splashproof multigas FTIR  analyzer. It's also lightweight (9.4 kg), splashproof (IP54 rated) and battery-powered providing unmatched portability for such a powerful analyzer. Designed for demanding on-field use, the GT5000 Terra is the perfect tool for a wide variety of applications and uses cases.
DX4015 is a portable FTIR gas analyzer for ambient air analysis. The analyzer's sample cell is heated to 50 °C, which allows measurements to be done in conditions where high humidity is expected and provides temperature stability in changing conditions.
Both analyzers include a high sensitivity sample cell for the lowest possible detection limits and a built-in-pump, which means that there is no need to use a separate sampling system. You can read more from the downloadable brochures and datasheets below.
Meet us at Events
You can meet our experts at the following events in 2023:
13-13 March: Global Soil Biodiversity Conference Dublin Ireland
23-28 April: EGU 2023 in Vienna, Austria
7-10 May: CGU Banff, Alberta
27-30 June: SWS Spokane, WA
26-29 June: 4th Global Soil Security Conference 2023, Seoul, Korea
16-20 July: ASAS in Albuquerque, NM
12-16 Dec: AGU in Chicago, IL
Greenhouse Gas Measurement Guide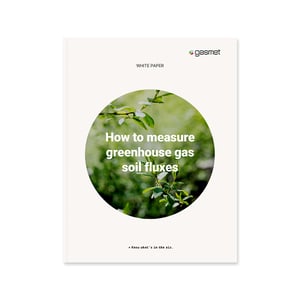 One of the most common methods for measuring soil flux is the so-called chamber method. We go through that and explain the technology behind it in our guide. The guide is aimed at all who are interested in measuring GHG fluxes at soil surfaces.
Videos and webinars
Quick Guide for Greenhouse Gas Soil Flux Measurements
Setting up gas analyzer and automated chamber system
Taking GHG flux measurements
How to Use GT5000 Terra gas analyzer
Our Experts
Jockum Törnqvist from Finland
Request personal contact
If you need more information and want to contact us personally, you can find the details of our representatives below. You can also request a personal contact or virtual presentation from one of our experts, just leave your contact details in the form and we will get back to you.
Spectrum library and app
Gain immediate access to the Gasmet FTIR spectrum collection, sample gas dew point calculator, unit conversion tool and CO2 / O2 concentration calculator in your pocket!
Or you can browse spectrum library on our website: