Welcome to Gasmet CEM booth
Here you can find all the information you need about emissions monitoring and about our solutions for it. We have videos, webinars, and a variety of downloadable materials, such as brochures and product datasheets. You can also find videos of our experts and contact them further down the page.
World-class Emissions Monitoring Solutions
Our goal is to provide systems that help improve air quality. We believe that each delivered Gasmet system is a step closer to a cleaner future. Gasmet is the only manufacturer in the market providing and manufacturing all the following three top-class solutions for continuous emissions monitoring: CEMS II e for industrial emissions, CMM AutoQAL for mercury emissions and GT90 Dioxin+ for dioxin emissions sampling.
CEMS II e is a fully automatic continuous emissions monitoring system offering TÜV and MCERTS certified solution for a wide range of industrial applications. The CEMS II e has an excellent annual availability and a 6-month maintenance interval.
CMM AutoQAL is a futureproof, certified Continuous Mercury Monitoring system, with an automatic and integrated QAL3 validation tool, that has the best sensitivity on the market.
GT90 Dioxin+ is designed specifically for long-term sampling of dioxin emissions. The automatic system represents the cutting-edge technology for dioxin sampling and fulfills all requirements of the dioxin measurement standard.
DX4000 is the world's smallest emissions monitoring system based on FTIR technology. The Gasmet DX4000 has received the coveted MCERTS certification for stack emissions monitoring.
For more information about these systems, you can download brochures and technical datasheets below.
Downloadable materials
We Provide Solutions for the Following Applications
Emission monitoring handbook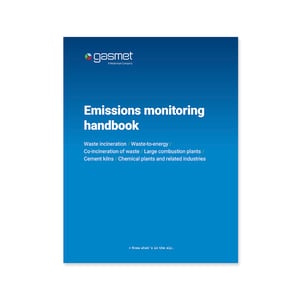 Increase your Emissions Monitoring knowledge by downloading the guide free of charge!
Videos and webinars
Quick overview of Gasmet's solution portfolio
Basics of mercury monitoring system CMM AutoQAL
Basics of dioxin sampling system GT90 Dioxin+
Continuous Emissions Monitoring System, CEMS II e
Continuous Mercury Monitoring System, CMM AutoQAL
Dioxin Monitoring System, GT90 Dioxin+
How to set up DX4000 with PSS for emissions monitoring
Continuous Emissions Monitoring at Cement Plants
Our Experts
Thomas Paulat from Germany
Request personal contact
If you need more information and want to contact us personally, you can find the details of our representatives below. You can also request a remote demo or other virtual presentation from one of our experts, just leave your contact details in the form and we will get back to you.